Balushahi Recipe - Homemade Balusha Sweet Recipe by Chef Asifa-
6251
19
206
29.03.2019
115008605
1100000
931
07.09.2015
PK
"In the name of Allah, the Most Gracious, the Most Merciful" Are you looking for some storable sweetish? Find the yummy Balushahi. Balushahi is a traditional dessert originating from the Indian subcontinent. It is popular sweet from the Indian subcontinent. Balushahi is similar to a glazed doughnut in terms of ingredients, but differs in texture and taste, with ingredients and method online for your assistance. If you like this recipe and video then hit the like button and make a comment and also subscribe to my channel. 🤍🤍youtube.com/c/cookingwithasifa 🤍🤍facebook.com/CookingwithAsifaOfficial/ 🤍🤍instagram.com/cookingwithasifaofficial/ 🤍🤍pinterest.com/CookingwAsifa/ Serves: 10 Preparation Time: 10 minutes Cooking Time: 20 minutes Total Time: 30 minutes Ingredients: • Sugar (2 cups) • Water (1 cup) • Saffron (1 pinch-optional) • Green cardamom powder (2 pinches) • All-purpose-flour (Maida) (1 cup) • Desi ghee (1/4 cup) • Yogurt (1 tbsp) • Baking powder (1 tsp) • Vegetable oil (for frying) Cooking Method: Step 1: Put a pan on the stove and add sugar and water in it. Stir continuously on low flame until the sugar is dissolved. Turn the flame off when water came to boil. Now, add green cardamom powder and saffron (optional) mixed in 1 tbsp water. Sugar syrup is ready, so put it aside. Step 2: For dough preparation, take a separate empty bowl, and put all-purpose-flour (Maida), desi ghee, water (1/4 cup), yogurt, baking powder and mix it well until crumbled. Let it rest for 5 minutes. Step 3: After 5 minutes, take the dough out of the bowl and put it on the countertop. Spread the dough with hands. Step 4: Cut the dough from a center and put both parts on one another and press gently. Step 5: Repeat step 4 two more times to make layers. Now make two parts, take one part and roll it with your hands. Divide the roll into several parts to make the pieces of your desired size. Step 6: Take one piece, roll it with soft hands to transform it into a ball shape. Press the ball gently at the center. Step 7: Repeat step 6 to make all the balls of balushahi. Step 8: Fry the balushahi in vegetable oil on low flame for 15-20 minutes. Cook both sides until it turns golden brown. Step 9: Now, take the fried balushahi out of oil and put it in prepared sugar syrup for 5 minutes. Step 10: After 5 minutes, take out the balushahi in plate. Garnish it with pistachio. Step 11: The delicious balushahi is ready. Now you can serve it after 8-10 hours. How to make Balushahi recipe or Badusha recipe. A famous Balusha recipe. Video Tags: #CookingWithAsifa, #ChefAsifa, #BalushahiBalusha,
Кадры из видео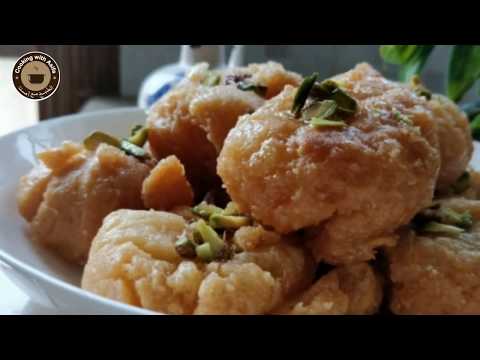 Комментарии пользователей:
Meer Khan
2019-05-26 02:11:48
Asifa oil m fry krne s bh wese e hogy Jese geh m
Ammi I
2019-04-24 13:03:49
Nice
Cooking House of Dipty
2019-03-31 03:15:31
Wow very nice
Aneela Khalid
2019-03-30 09:35:56
Wao mazaydar😋😋
syed hasan
2019-03-29 22:58:30
Very Nice Video 👍👍
IBRAHIM
2019-03-29 18:18:12
Very good cooking..keep it up..
Missabida Lateef
2019-03-29 17:30:48
Super madam
HAFSAH Z.
2019-03-29 13:38:19
❤Yup!❤ My mother loves balushahi so much. Insha-Allah, I'll make these for her!
THANKS FOR THE RECIPE!.....
👍Thumbs up!👍
Samz Samz
2019-03-29 13:10:33
Bht zbrdst receipe hy
Aisha Noor
2019-03-29 11:58:11
Walakumassalam
Soul Ease
2019-03-29 08:20:29
Wow
Mzy dar
jnabki jaan
2019-03-29 08:14:56
Thankew apo
jnabki jaan
2019-03-29 07:53:17
Apo ab app mery comments pe like b ni krti h 😢😢😢😢😢😢
Nosheen Imran
2019-03-29 07:49:41
Aap ka measure ment cup 250 ml ka brabar hay Kay?
Nayyar Khan
2019-03-29 07:17:36
Wow kiya bat hai
Zeeshan Ahmed
2019-03-29 07:14:23
Aapi aap ye recipes lati kahan sey hain ? Very delighted I am from this recipe. Away from home but taste like home. Mash Allah !
Bismillah Goat Farm۔ بسم اللہ گوٹ فارم۔
2019-03-29 06:57:02
nice
Najma ki Rasoi
2019-03-29 06:53:24
Zabardast racipi baloshai