'Black Sand' P90 - humbucker sized
1081
8
21
15.07.2021
35415
395
72
22.06.2020
NZ
The humbucker sized P90 is a great pickup – it sits tonally between a humbucker and and a strat type pickup. 🤍mrglynspickups.com/2020/03/29/black-sand-humbucker-sized-p90-neck/ If your neck humbucker is a bit thick and woolly sounding, you want more clarity, or just want a different tone, then this one may be the answer. The physical size of this pickup is identical to that of a "normal" humbucker so it will pop straight in. P90's are different to other single coil pickups. They have a wide, flat coil similar to that of a Jazzmaster but the magnetic field is a very different shape. Fender single coil pickups have the coil wound around the magnet giving a focused, precise percussive sound. A P90 has 2 bar magnets underneath the coil; this broadens the magnetic window allowing the pickup to listen to a bit more string and thickens the sound. I chose Alnico V bar magnets for this model to help give some grit and power characteristic of a P90. Of course, too much power and the pickup would sound too thick and bass heavy which is not its purpose. Too little power and it just won't snarl. The development of my "Black Sand" pickup was a bit backwards. Usually I make a bridge pickup first and work from there but with this one the neck pickup came first. I had a customer ask for a neck pickup for an es335 to sound clearer than his existing Gibson humbucker. I sold a few neck pickups before thinking it would be a good idea to have a set. So I started work on the bridge pickup. I wanted this bridge pickup to have clarity in the lower mids to stand out from humbuckers while having enough power to grit up nicely. I wanted it to be clean when tickled and to growl at you when you dig in. P90's are all about dynamics. It had to match the existing neck pickup or work well as a stand alone in a HSS situation. Of all the pickups in my range this one came together the quickest. There were only 4 or 5 prototypes and I was happy. Experience and intuition combined with a notebook where I've written down details of every experimental pickup I've made since 1995. There were a load of prototypes in and out of a Les Paul, Tele Delux and PRS, through different amps and in the hands of different players. I never trust just my own ears with my pickups. I like to get opinions and suggestions from a few players before making any final decisions. I listen to what players say and I adjust prototypes accordingly, but at the end of the day the final decision is mine. I'm always aware of the phrase "a camel is a horse designed by committee". It took a while to get this one right. A pickup would sound great at workshop volume, them I'd play it in a band situation and it would be too boomy, too much like a humbucker. So I'd have a think and make another. In the end persistence paid off. The pickups I finally settled on went into my Les Paul and off to a gig for the ultimate test, and that's where they're staying. The neck "Black Sand" is a great match for either my "Integrity" or "Cloud Nine" bridge humbuckers or as a set with its equivalent "Black Sand" bridge humbucker sized P90. I agonised over what to call this pickup set. I wanted a name that would reflect the apparent contradiction in P90's. From the perspective of a humbucker player they are clear and chiming. From the viewpoint of a single coil player they are powerful and gritty. They're one thing while looking like another. I wanted a oxymoron to reflect this contradiction, one that might include the unique magnetic structure that gives the P90 its character. So I went for a run along Muriwai beach to think. And there it was staring me in the face (literally). Muriwai has black volcanic sand due to its iron content and it's magnetic. So I've called this set "Black Sand". 'Black Sand' P90 - humbucker sized 0:00 intro 0:39 description 3:20 back to playing
Кадры из видео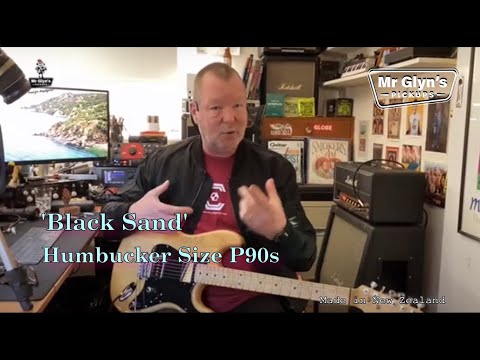 Комментарии пользователей:
GATvsGAT
2021-07-25 19:07:16
Wow these sound amazing! A wonderful hybrid between a single and a humbucker. Nice job Glyn and a great demo too!
JohnnyBananas
2021-07-25 04:22:24
I have a set of these in a cheap kitset es-295 copy and they make a budget guitar sound like a million bucks., They are seriously the best p90s I've played and i put them up against my Seymour antiquities and they just had more definition to my ears . such a versatile pickup to the P90. it does it all.
Shaun Stephens
2021-07-15 11:36:17
They sound awesome! Dammit I want a guitar with humbucker routes now!
jack benson
2021-07-15 06:07:09
great toanz