(my personal) 2013 Gibson '59 ES-330 VOS
16020
28
166
02.06.2017
100302558
95900
15221
23.11.2007
DE
TC Ditto Looper / clean & Okko Diablo "Gregor Hilden Signature Model" / Amp: Victoria "Ivy League" Tweed Amp 2x 10" , Vahlbruch Spacetime Delay, TC Polytune Tuner, ChickenPick Picks ( 🤍🤍gregsguitars.de) German Site: Informationen zu den Gitarren, FAQs, Fotos, Preisangaben etc. gibt es auf meiner Homepage: 🤍🤍gregsguitars.de Okko- und Vahlbruch Pedale, Chickenpicks-Plektren sind auch bei mir im Angebot und ständig auf Lager. English Site: For FAQs and more detailed information on the instruments presented here / close-up fotos, pricings etc, please go to my 🤍🤍gregsguitars.de/en/ Okko Diablo Overdrive / Vahlbruch Spacetime Delay Pedal / Chickenpicks also available You are welcome to ask any questions about the items for sale on my sales page, I will try to answer as soon as I can. Please understand that I can not take the time anymore to answer questions like "Do you think Mexican Fenders are better than Korean Epiphones" or "What's your favourite stompbox under $ 100?" and other general gear-questions. I understand that the casual and informal way of internet communication is inviting to ask anything you ever wanted to know about guitars. However, I get about 150 emails a day (!) just like these, it would take many hours each day just to respond to all these general questions. That is simply impossible to do. However, questions related to items on my inventory I'll try to answer quickly Allgemeine Fragen zu Gitarren und Amps: Inzwischen habe ich über 5000 Gitarrenvideos erstellt, und die Leute denken natürlich nicht ganz zu Unrecht: "Der kann mir sicher ein paar gute Tipps geben", oder immer beliebter: Fragen beantworten, zu einer Gitarre, die gerade günstig bei Ebay ersteigert wurde und etwas merkwürdig aussieht... Das Problem ist allerdings, dass ich inzwischen jeden Tag an die 150 derartige Mails mit allgemeinen Fragen aus der ganzen Welt bekomme... ("welche Epiphone kannst Du empfehlen..., "...was ist der Unterschied zwischen einer Custom-Shop-Les-Paul und einer normalen...", "..welche Strat-Pickups soll ich in meine Road-Worn einbauen", "..was ist der Unterschied zwischen einer Vintage-Fender/Gibson und einer Reissue ..". Ich habe eine ganze Zeit jeden Tag solche Mails beantwortet - und im Einzelfall wäre dies auch kein Problem. Aber, sorry, in diesem Umfang geht das leider nicht mehr! Nehmt es also bitte nicht persönlich wenn ich solche allgemeinen Fragen ab jetzt deshalb grundsätzlich nicht beantworte! Ebenso wenig Fragen nach Backing-Tracks, Aufnahme-Equipment, Plektren, Saiten.. - vieles steht bereits in den "FAQ" Seiten Spezielle Fragen zum Equipment in meinem Shop beantworte ich natürlich weiterhin gerne. Bei umfassenden Fragen/Beratungen lieber auch telefonisch als per Mail. Und ich bekomme so auch einen viel besseren Eindruck über die Wünsche und Vorstellungen des Kunden weil man direkt auch gezielt nachfragen-, Empfehlungen geben kann etc. . Am WE oder abends anrufen ist auch kein Problem.
Кадры из видео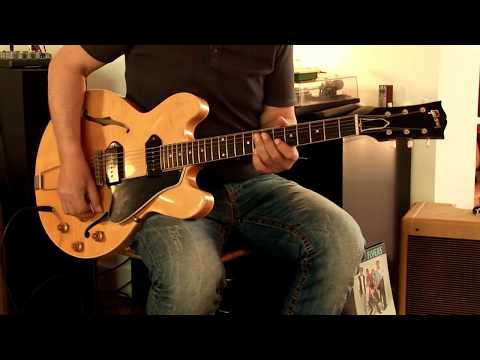 Комментарии пользователей:
Jonny Beck
2022-07-08 11:17:45
Lovely guitar and nice playing...
Did you like it's sound acoustically?
David Weden
2022-03-01 12:39:42
Greg! I am picking up one of these this week, same blonde finish. Thanks for the demo, it was instrumental (no pun intended) in my decision.
Walter Fagen
2021-12-23 14:45:50
youtu.be/3Y7PBTNu2eg youtu.be/3Y7PBTNu2eg
patrick shepard
2021-11-14 23:17:33
I'm all about getting that amp
Nick F
2020-08-29 01:19:11
Yes, that guitar is a gem...sounds killer!
alxmackenzie
2020-05-20 11:56:15
How do these custom shop models compare to the original early 60's Gibsons?
Steadyawake
2020-04-27 00:24:59
Teddy got soul
mcdee56
2019-05-21 16:57:54
Love the sound AND these guitars feedback so easy...
vanostran9999
2019-02-13 00:11:37
How does this guitar compare to the higher end casinos?
William Lewis
2018-10-04 23:41:36
I have one and they are worth every penny. Gibson Memphis still knocks it out of the park
Tonetwisters
2018-10-04 00:45:06
Love these guitars. Very articulate, yet very warm. Love the Natural finish, but I think that '59 neck is too fat for this old man. Great sounds, though, and great playing ... so nice to hear something besides of all-out distortion racket ... BTW: I have dug these since 1964, and really wanted one since around 1971 ... Stratocasters are cheaper, so that's what I play ...
Larry N
2018-08-06 02:57:27
Jazzer Grant Green played an ES-330 early on. They are the same design as an Epiphone Casino that John Lennon and two other Beatles owned.
norisakunorisaku
2018-01-01 10:40:15
so cool sound and teddy.
Jerome Wagschal
2017-06-04 15:13:19
It's amazing how well those pickups react to overdrive considering people hardly ever used overdrive in 1959...
Stephen Scott
2017-06-03 17:22:39
Sweet Hollowbody...
surf247365
2017-06-02 10:22:29
Sweet sounding guitars! Definitely on my list.