Sheikha (Princess) Latifa Al Maktoum - FULL VIDEO - Escape from Dubai - #FreeLatifa
5341756
10036
40969
11.03.2018
5509299
20300
35
11.03.2018
GB
Latifa Bint Mohammed bin Rashid Al Maktoum Princess Latifa was born on 5 December 1985. She is an Emirati princess and a member of the Dubai royal family. As the daughter of a Sheikh, she is often given the courtesy title of 'Sheikha Latifa'. Latifa's Escape "Your father told us to beat you until we kill you. That's his orders. Your father's orders. Your father, the ruler of Dubai – that's what he said." Princess Latifa's story goes back to 2000 but it really took off in 2018. It is an astonishing story, which tugs at the heartstrings of anyone who has enjoyed freedom. Born into a fabulously rich family, Latifa was one of a couple of dozen children – by several wives – of the ruler of Dubai, Sheikh Mohammed bin Rashid Al Maktoum. To the outside world, she seemingly lacked nothing in material terms, but had no warmth from either of her parents, and her only real family friends were her elder sister Shamsa and two adopted sisters. Both Latifa and Shamsa were sparky, free-thinking young women, which meant they clashed with the ethos of the gilded cage in which they grew up. Shamsa pulled off her escape while the family was stationed in England during the flat racing season (Sheikh Mohammed is one of the world's leading owners of racehorses). But two months later her father tracked her down, had her kidnapped off the streets of Cambridge, and brought back in a private plane to Dubai where she was imprisoned for years. That instilled in Latifa a determination to escape, and in 2002 she tried it. But at 16 she was by her own admission hopelessly naïve and was easily tracked and brought back to the palace. As a result of her attempt to leave Dubai she was arbitrarily detained by her father and spent more than three years in prison. She was subjected to torture, and inhumane and degrading treatment. That made her all the more determined to escape, even if it meant taking many years to plan it properly. On 24 February 2018, Latifa met up with her trusted friend Tiina Jauhiainen for a coffee in downtown Dubai. At one stage she nipped into the bathroom, came out wearing different clothes, drove with Tiina out of town, and managed to get across the border into Oman. From there she boarded the US-flagged boat Nostromo and sailed to freedom in international waters. However, on the night of 4 March 2018, an unprecedented international abduction took place in which a significant Indian and UAE military force converged and carried out an unprovoked attack on the small boat off the coast of Goa, India. This force – consisting of at least two state-of-the-art ships from the Indian coast guard, a UAE Navy frigate, several hundred men, including an elite commando unit and a detachment of the UAE armed and state security forces, helicopters and planes – was sent to illegally capture and kidnap one young woman. On that night, Indian commandos boarded the yacht Nostromo, savagely beat and tortured the crew of the ship, and dragged Latifa away, illegally ignoring her desperate pleas for asylum. They also captured Tiina and the crew were illegally taken to Dubai, at gunpoint. Tiina and the crew were eventually reclassed following growing international condemnation of the acts of the UAE, but Latifa was kept captive, and remains so today. That the troops carried out the raid when they knew they were blatantly violating international law by attacking an American ship in international waters speaks of the power of the man they indirectly served. Sheikh Mohammed bin Rashid Al Maktoum is the unelected and unchallenged ruler of Dubai, and the woman whose dream of freedom was brutally and violently crushed that night was his daughter, Sheikha Latifa. While being held following the raid, one of the troops in charge told Latifa: "Your father told us to beat you until we kill you. That's his orders. Your father's orders. Your father, the ruler of Dubai – that's what he said." Any information leading to the whereabouts, please contact: latifa🤍freelatifa.com 🤍freelatifa.com
Кадры из видео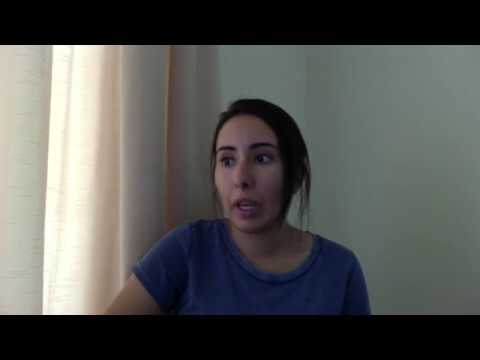 Комментарии пользователей:
Pandit Amit modi Khan
2023-01-23 08:40:52
Which Freedom U Want.. To Make Boy Friends and Having Multiple Sex Partners..
Mary Anne Goodrich
2023-01-21 05:10:46
Brave courageous Princess...admire your openess and strength...I pray you will be alright and you be well and live your dreams...SOMEWHERE...God bless and protect you and grant your wishes of freedom! God is gloriously good...keep going and may there be holy angels in your parth to watch over you and guide you to freedom.
kwon kaede
2023-01-16 21:37:41
She is half algerian 🇩🇿 no wonder why she seeks freedom
Ashish Wishful
2023-01-15 15:39:15
I'm very disappointed by Indian govt. Role when she was near our borders. We should have secretly let her fled away
Gilzea Silva
2023-01-15 04:30:38
Nasceu em um berço de ouro onde jamais o resto do mundo poderá experimentar
Hear Me Out
2023-01-12 18:35:45
if being a princess ,you have a life like his , i better be poor with less than $3 per day,,,
Hear Me Out
2023-01-12 18:34:05
Going to dubai ? i think i better sleep with a tiger !!!!!!!!!!!!!!!!!!!!!!!!!!!!!!!!!!!!!!!!!!!!!!!!!!!!!!!!!!!!!!!!!!!!!!!!!!!!!!!!!!!!!!!!!!
Lisa Marie
2023-01-09 01:25:26
How can we help you? I hope you're safe and in Paris
Lisa Marie
2023-01-09 01:22:01
Stop supporting Dubai. youtube.com/results?search_query=%23freelatifafreeshamsa #freelatifafreeshamsa
Deya Zlateva
2023-01-08 14:04:45
🌹🌹🌹👏❤️
Sa Fa
2023-01-07 16:00:51
Is it something new that ruller of the Dubai is evil? No. It's all written on his face 😈. He has an evil face.
Marlies Obrien
2023-01-06 13:27:55
Stop or I will Write to dubai
Katerina Litsiou
2023-01-02 01:54:32
κρίμα στο κορίτσι 😪😪
Bellucci's glam
2022-12-31 06:12:56
Is she alive
Lucky
2022-12-27 10:03:43
DON'T VISIT DUBAI
virginia kiratu
2022-12-22 06:49:35
She is very beautiful 😍 Al makhtoum has very beautiful daughters 🙏
Gunz Chattergoon
2022-12-20 03:48:41
They will send a driver for you. GunZ
Gunz Chattergoon
2022-12-20 03:46:49
When you love someone you don't care who that person is doody Al fierd
chaimaa_ _had
2022-12-14 14:01:33
not only the father BUT THE MOTHER TOOOOOO ??? so sad 😔😔